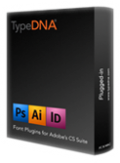 TypeDNA Font Manager is a standalone font management program, compatible both with Mac and PC, that also works as a plugin within Adobe CS5 applications (Photoshop, Illustrator, InDesign). While most font management software will group and activate fonts in your library, TypeDNA goes beyond that role with the aid of Creative Font Tools, which lets you find the font you want to use fast.
TypeDNA includes tools that offer sophisticated character analysis. This allows TypeDNA to understand each font and help you find the font you want to use fast. Each tool can be used independently or combined for extremely powerful browsing and font selection.
Similar Fonts
Just choose a reference font and click "Find Similar". TypeDNA will analyze the characteristics of your fonts and list similar selections you could choose.
Harmony
Font Harmony easily combines fonts to create appealing visuals.
Harmony Body Text – Select a headline font and let Harmony suggest suitable body fonts.
Harmony Headline – Select a body font and let Harmony suggest suitable headline fonts.
Harmony Contrast – Choose a font and let Harmony suggest complementary fonts with contrasting styles.
Harmony Family – Combine fonts with other styles from the same family.
SmartChoice
SmartChoice, helps you find visual inspiration from your font collection even when faced with thousands of fonts. SmartChoice is available in three flavours: Mix, Headline, Body.
Multiple Views
Instead of the list view you can browse fonts as mini font cards. CardView also offers a lazy mode, where you can sit back relax and watch your fonts fly by.
And More...
You can find duplicate fonts quite easily with TypeDNA and activating / deactivating fonts can be performed with a click of a button. You can turn off any font that you do not use regularly and simply view it and activate it from TypeDNA's font menu.
TypeDNA inside Adobe CS5
TypeDNA not only does the job of a traditonal font manager but uniquely can also be used as a plug-in direct inside Adobe CS5 (Photoshop, InDesign and Illustrator). With TypeDNA you can:
Create and edit font layers direct from the plug-in
Quickly view used fonts within a working document and activate as necessary
Find newly added fonts fast
Like a particular font? Select the text layer in Photoshop and double click the font from the TypeDNA plugin. Your changes are automatically reflected. It's important to note that if you're currently editing a Type layer (i.e. typing text), you'll have to confirm your edits before substituting fonts out with TypeDNA.
About TypeDNA
Based in Stockholm Sweden, TypeDNA AB. develops font technologies and software for the graphic art industries. "Creative with fonts™" is the ethos behind all TypeDNA's products. Through various software applications TypeDNA offers an unparalleled set of tools for finding and using fonts.
Regards,
Edvin Rab